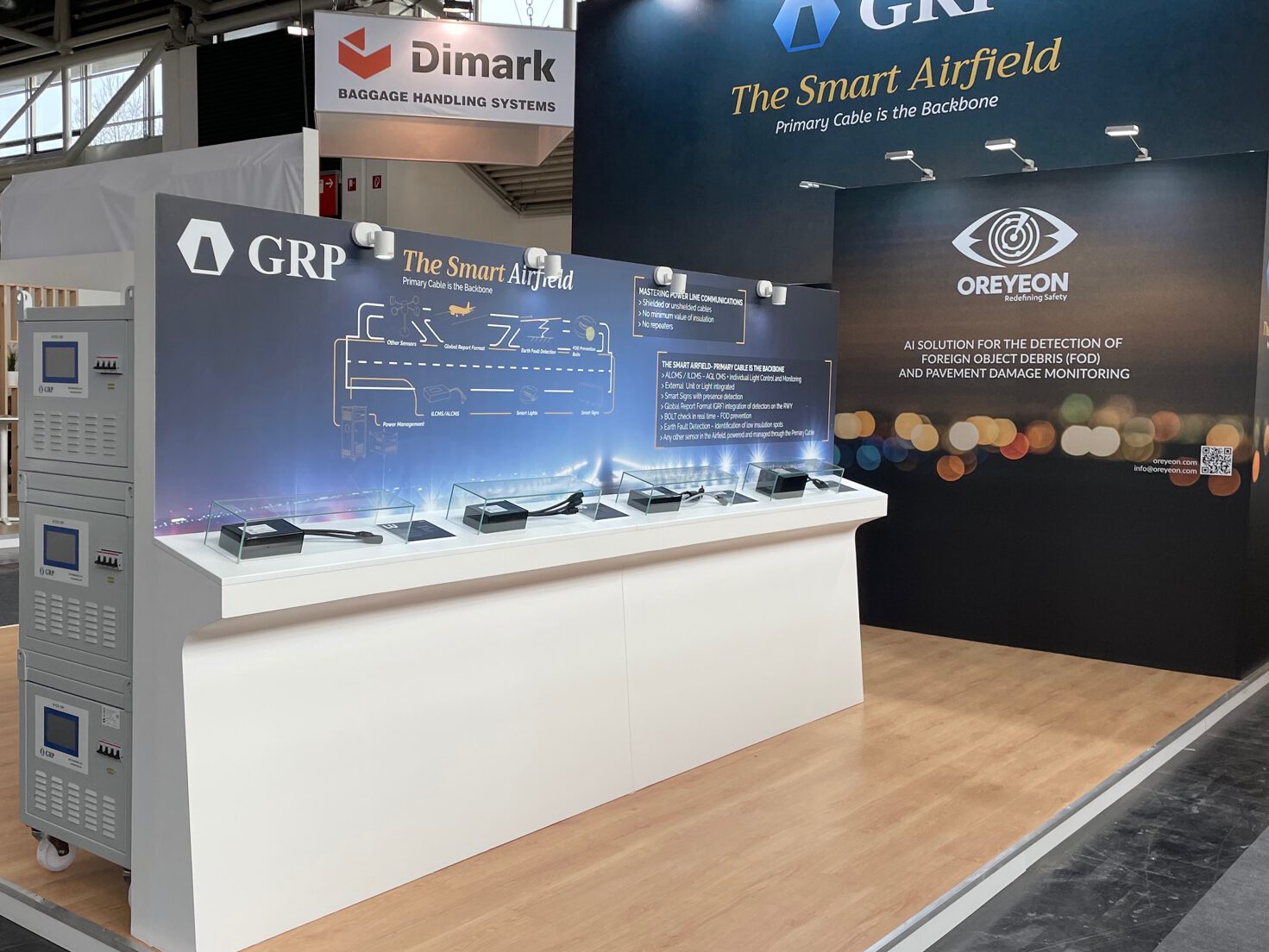 GRP ATTENDS INTERAIRPORT MUNICH 2021
GRP has attended Interairport Munich 2021 from 9-12 November. This is without any doubt the most important event in the industry that is held every two years.
GRP has developed its concept of the "Smart Airport" where thanks to its State of the Art Power line communication technology, the Primary Cable is a true Backbone.
GRP presented the EFDS. This system will provide an accurate assessment of your primary circuit state and map its insulation level across the circuit. EFDS-GRP is a combination of field unit (EFSU) that are installed in technical pits or inside AGL deep cans, and a Smart-EFS cabinet that is located next to the CCR allowing measures and communication on the AGL circuit.
Field units (LU/LUD/LUMB) were also on display at our stand. They are part of our successful Individual Lamp Control and Monitoring System (ILCMS-GRP), considered as a reference system for AGL single lamp control and monitoring, while providing detailed and accurate information to the airport maintenance department.
Special attention was made on the new Stackable Constant Current Regulator with IGBT technology, also displayed, offering three power range options (2,5kVA – 4kVA – 5kVA) of three phase or two phase input power. This efficient design will allow to spare room in crowded substations, by piling up 2 to 3 CCRs in one column and still benefit the high performances of state of the art IGBT based CCRs.
We could share with customers recent success stories as the one at Vancouver Airport, where GRP has been awarded with a second project to replace the existing system that was not, according to the customer, behaving as per their expectations.
It was a successful event with lots of positive feedbacks that confirm the industry is taking off strongly and GRP is going to be there helping you to take your airport one step ahead, through our technology development of Power line communication.
This event is a boost to our efforts and reassures that we are on the right track to provide a full portfolio of solutions around the concept of "Smart Airport" using Power Line Communication technology with no equivalent today in the Industry.
"Thanks to all our customers and friends for supporting us in this event. "